Specialists of Composite
Doors
High Spec Windows is a specialist manufacturer of GRP (Glass Reinforced Polyester) faced composite doors in Birmingham with a huge variety of styles and designs. We have invested heavily in our bespoke manufacturing facility allowing us to become a leader in making GRP composite doors in Birmingham and beyond. We are proud to say that Birmingham isn't home to a better manufacturer of thermoset fibreglass doors than High Spec Windows.
There are some basic features that make any GRP composite door what it is. The doors' surface is made from impact-resistant fibreglass and is compression moulded to offer detailed panel definition and lifelike wood grain effect. It also has a CFC-free polyurethane foam core which provides very high sound and heat insulation, and the finished product will not expand, contract, bow, warp or twist. And these are just some of the benefits of our composite doors made in Birmingham.
Long Lasting
First Impressions with Composite Doors
GRP composite doors are a great way to increase the thermal efficiency of your home. The stiles and rails are composed of water resistant polymer which are bonded to the skin and filled with an insulating core of 100% CFC free polyurethane. This provides a thermal efficiency nine times that of a timber door. This is a door that is strong, stable, durable and secure and looks very good indeed.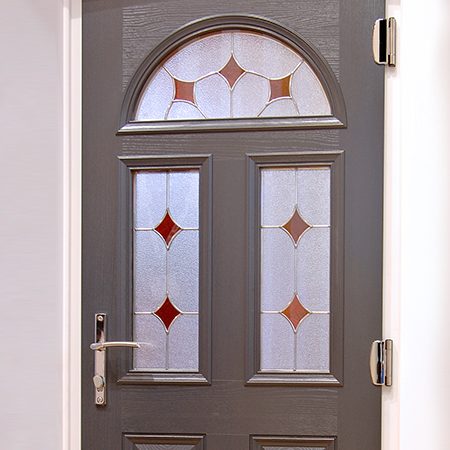 Composite Doors Have a Better Thermal Efficiency than Timber Doors
This has never been truer than in the case of a front door, and this is why GRP composite doors, Birmingham and beyond, have become the door of choice. Manufactured from thermoset GRP (Glass Reinforced Polyester), the doors are compression moulded to give a high definition panel design with an authentic timber appearance which is unaffected by variations in temperature.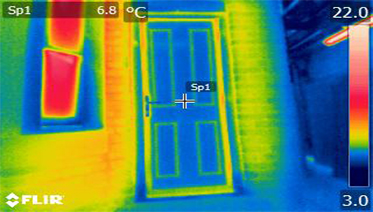 Advantages of GRP composite doors
GRP composite doors serve a bigger purpose than just looking nice, though they do this in abundance, they also provide homeowners with a range of benefits that you simply do not get with other types of doors. The massive benefits to installing GRP composite doors is one of the many reasons why these have become so popular recently.
They are not effected by temperature. No matter what Mother Nature can throw at our GRP doors, they won't swell, contract or warp.
They require far less on-going maintenance. The glossy skin keeps doors looking newer for longer, requiring only occasional cleaning with a suitable cleaner and sponge.
Security. Perhaps most importantly of all, they are ultra-secure thanks to an extremely strong construction. They don't splinter when kicked like wooden doors. They are stronger than uPVC panel doors so don't cave in at the panel joints. They have a high resistance to attack.
More than just a purchase to improve the appearance of your home, they are an investment that will last for years.